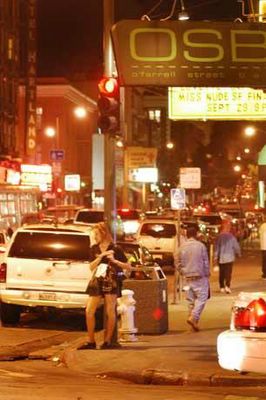 Thursday night, my Sucka Free homies G, M, and E met up for a much needed mini-reunion to let loose and act like college-aged keg mongers. I needed it to clear my head. I had been caring for the lil' one by myself for the past week.
Unfortunately I don't remember much since things got way out of hand.
Here are scenes I do remember:
- Rockets baby, Rockets winning by 18 or so.
- Talking hella shit to a group of older black dudes (Mav's fans) every time the Rockets scored.
- Smokin' latina at Jillians that was looked as if her ass and thighs were poured into tight jeans.
- 2 Jamesons, 4 Patron shots, 4 Coronas, and 1 Pale Ale in my body by halftime.
- Eluding the $40 cover and getting in free at
Mitchell Bros
- Grabbing a handful of the first chick's ass I saw in there and trying to talk her into hooking me up for free.
- Immediately walking out after I realized I was out of cash and refused to get funny money from the ATM machine.
- Cutting in front of some fat bitch to place some pool at
O.S.B.
- Then getting run out on by some Tenderloin pool shark, probably the fat bitch's boyfriend.
- Bumpin' Sam Quinn and Nickatina at full blast in E's Audi while doing 80 on the 280.
- Killing M at Madden with the Cleveland Browns (two hail mary's, two touchdowns) before he turned off the game.
- Waking up with a nasty hangover and a Cinco De Mayo necklace on.
- Picking up my cell phone that I left at M's this morning.
- Laughing because M was still wearing clothes from last night and still had the Cinco De Mayo necklace on.