BBQ and Sake?

What the hell? That's what I was thinking when I first walked into Memphis Minnie's Southern style BBQ joint. They actually had a sign listing the different types of cold Sake they served. Only in SF i guess.

I case you don't know I've been on this neverending quest to find quality BBQ in this wretched city. So far I've checked out Big Nate's and Everett and Jones and I've been extremely disappointed. Big Nate, I know you're an NBA Hall of Famer but your BBQ would've been cut from the High School JV squad. Argh.(even though I still eat there because there's nothing else). Brother-In-Law's BBQ is next on my list to try but again, I'm not getting my hopes up. Don't get me wrong though, I'm not expecting real stuff like Rudy's or The Salt Lick like we had in down in Central Texas. Shit, even the average BBQ my wife picked up at the airport in Houston blows everything away here. I just need something, anything, that faintly resembles real Southern, finger licking BBQ.

I've checked out the reviews and I've meant to check out Minnie's for quite sometime now. Low expectations and bitch-ass parking in the Lower Haight, for the most part, have lessened the urge. But today, after watching the BBQ specials on Food Network I was fiending. I had to finally visit the place.

The ambiance was typical of any BBQ with it's bright red walls and picnic style seating. The staff was very cordial and the line to get grub was long. I was disappointed by the fact they were out of St. Louis style ribs. I guess it was just late. Who knows. So I order the rib tips and their speciality brisket (supposedly cooked for 18 hours) with macaroni/cheese and potlicker greens. The food came out quickly and I raced home eager to feast.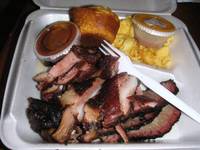 The ribs were greasy and it's edges were a bit overcooked. The outer texture of was similar to that of beef jerky. The brisket was succulent and tender but was definitely too fatty. The sides were average at best. What I did appreciate about the place was the fact that they didn't drench the meat in sauce which all other SF BBQ spots seem to do. If you didn't ask for the sauce on the side you were basically stuck with BBQ sauce soup with a little meat in it. In fact, MM's actually advocates tasting the meat without or just sauced lightly. That's my style, just like down in Texas. The sauce at this place is a little different as there are four types (vinegar based, mustard based, and a mild and hot sauce). A little fancy shmancy but they all tasted pretty good. I didn't get to taste the hot stuff. I didn't see it anywhere and no one offered it to me. I had read about it later on their website after I already finished stuffing myself.

Overall, for it was ok for Cali, probably a little better than Big Nate's. But since I didn't get to try the ribs I can't really give it a fair assessment. However, if MM's was in the dirty south they'd be bankrupt by now. I'll be back I guess.